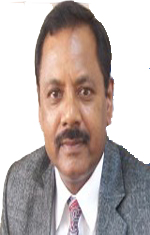 Director,ICC
MR KISHAN LAL KANOJIA is the Director of Indian Cultural Centre High Commission of India Suva, Republic Of Fiji . Born on 12 December, 1956; Graduation in Arts from University of Delhi Started his career in Indian Council for Cultural Relations [ICCR], Ministry of External Affairs, Govt. of India from 1976; Comes with 36 years working experience. Has previously worked in Administration,Exhibition, Seminar/Conference and Jawaharlal Nehru International Award, International Students Scholarships and Rabindranath Tagore 150th Anniversary celebrations.
The last assignment was as the Programme Director of Publication at Indian Council for Cultural Relations after which he has been transferred to Indian Cultural Centre in Fiji.
Has officially visited countries like The Republic of China, Qatar, Zambia, Kenya, Malawi, Mauritius, The Republic of South Africa and Zimbabwe.
Married to Sharda Kanojia, with two children.