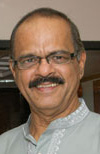 Mr. Viveka Nand
Indian Classical Instrumental: Tabla, Harmonium & Vocal
Viveka Nand has been a regular an active student of the ICC in Suva since its inception in 1972.At present; Mr.Nand is a faculty as Indian Classical Instrumental in ICC Suva. His major interest has been in the area of light classical vocal music and also of instrumental music, Harmonium, Tabla and Sitar (Percussion). He is a proficient and talented teacher in the field of both, Vocal and Instrumental music. Previously, he has worked for 5 years as a part time tutor at the University of the South Pacific from year 2000 and in Fiji College of Advance as a Guest Lecturer in Indian Music. Mr. Nand has been teaching in ICC Suva since October 2008.

Ms. Kavitha Sudarshan
Indian Classical Vocal: Carnatic Music
Ms Sudarshan, teaching in ICC,Suva since February 2009. She was born in Kozhikode, Kerala and has been trained in Carnatic Classical Music. She is a disciple of Shri Nedumangadu Sasidharan Nair who is an accomplished A-Grade artist with the All India radio and Doordarshan. Kavita is also an A-Grade artist in both light and classical music. She has performed extensively with eminent playback singers like Shankar Mahadevan, Hariharan, Chitra. Mrs. Sudarshan has a number of CD recordings to her credit. She is a versatile singer who sings in Malayalam, Tamil, Hindi, Fijian and English.

Ms. Shobna Chanel
Indian Classical Dance: Kathak
Ms Shobna is a Kathak Faculty at the Centre since 1st December 2009. As a student of ICC she learned Kathak and Folk Dance from 1973 to early 90s from various dance teachers from India stationed at Indian Cultural Centre, Suva, like Mr.Satyanarayan Charkha, Mrs. Shakti Roberts and Mr. S.A Tirmizi.

Ms. Sidhorna Rao
Indian Classical Dance: Bharatnatyam
Ms Sidhorna Rao is a Faculty for Bharatnatyam in ICC Suva. She studied Bharatnatyam under the guidance of Padmashree Guru Saroja Vaidyanathan who is the household name in Bharatnatyam in India at Ganesh Natyalaya in New Delhi and graduated as a Bharatnatyam Performer and Teacher through ICCR scholarship. She has vast experience of teaching in the respective field. Since last 10 years, Ms. Rao has taught Bharatnatyam at Fiji Multi Ethnic Cultural Centre. Ms. Rao has been teaching in ICC since February 2011.


Yoga: Healthy way of living
Position: Vacant


Ms. Pranita Prasad
Hindi
Ms. Prasad is a Hindi Faculty in ICC Suva. She has a Diploma in Vernacular Language (Hindi) from the University of the South Pacific in 2008. Ms. Prasad has been teaching in ICC since February 2011.


Yoga: Healthy way of living
Position: Vacant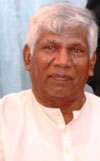 Mr. Sattvik Das
Indian Classical Instrumental
Mr Das is the faculty for Indian Classical Instrumental in ICC Sub-Centre, Lautoka. He has graduated in Bachelor of Music in 1973 at Gandharva Mahavidhyalaya, New Delhi through ICCR Scholarship. He earned Sangeet Varidhi: Advance training in Vocal & Sitar from Bharatiya Kala Kendra, New Delhi. Mr.Das has also been trained in Sitar, Tabla, Classical Vocal at Vallabh Sangeetalay from 1962-1968. Since 1969, Mr.Das served as a Music Lecturer at Nasinu Teachers College and Lautoka Teachers College respectively. Mr.Das has been teaching in ICC since April 2010.

Ms. Chandrani Pillay
Indian Classical Dance : Bharatnatyam
Ms Pillay is a Faculty of Bharatnatyam at Indian Cultural Sub-Centre, Lautoka. She has graduated from Bangalore University, India. Her discipline was Choreography: Bharatnatyam at Natya Institute of Kathak & Choreography. Since 2004, Ms. Pillay is associated with as a Director of Language, Culture and Ethnic Affairs, TISI Sangam and liaison officer for International Performing groups in Fiji. She has also taught Bharatnatyam at TISI Sangam, Nadi and Fiji Indian Cultural Centre since 1995. Ms. Pillay has been teaching in ICC since November 2009.