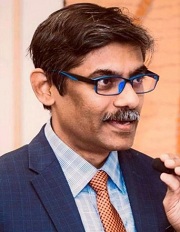 P.S. Karthigeyan
Shri P.S. Karthigeyan joined the Indian Foreign Service in 2004. He holds a Bachelor as well as Masters Degree in Economics from the University of Madras (India).
Shri Karthigeyan arrived in Fiji on 08th July 2021 to assume his assignment as the High Commissioner of India to Fiji.
In his previous assignment, Sh. Karthigeyan had served as the Deputy High Commissioner of India to Australia in Canberra.
During his earlier stints abroad, he had served in the High Commission of India in Male' (Maldives) and in the Embassy of India in Damascus (Syria) handling political and commercial work besides other responsibilities.
In the Ministry of External Affairs, Sh. Karthigeyan had worked in the Policy Planning and Research Division and in the United Nations (Economic & Social) Division. From May 2013 to February 2017, Shri Karthigeyan was also the Regional Passport Officer in Bangalore with jurisdiction over the State of Karnataka. Later he served as Director (North) in the Ministry of External Affairs in New Delhi.
Prior to joining the Indian Foreign Service, Shri Karthigeyan worked in the Public sector banking industry and also in the private manufacturing sector.
Shri Karthigeyan is married to Smt. Vanitha, a former Systems Engineer and is the father of two young kids – a daughter and a son.