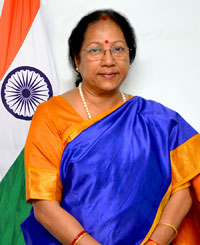 Her Excellency Smt. Padmaja
High Commissioner of India to the Republic of Fiji
Smt. Padmaja a Post Graduate in History from the University of Allahabad joined the Ministry of External Affairs in 1986. Her first posting abroad was in Bangladesh where she handled mainly Consular and Visa matters. Thereafter, she was at Headquarters dealing with the matters related to Afghanistan, Iran, Historical Research, Visa Policy, Passport and Consular issues, NRIs & PIOs. Before proceeding to London in 2010, she worked in Indian Council of World Affairs. In London, she dealt with Media & Information and Public Diplomacy. Back in HQrs, she handled the work related to Global Estate Management and Consular matters. Her field of expertise is Consular, Passport and Visa matters.

She speaks Hindi & English and belongs to the year 2000 Batch of the Indian Foreign Service. Having keen interest in Indian Culture, Hindi, Sanskrit and other Indian languages & literature etc, she has translated a few works of Astrology and Literature from English to Hindi. Her keen desire to be with nature has taken her to many places including Kailash Mansarovar, the most hazardous pilgrimage in the world.
Before coming to Fiji she has served in ICCR as Deputy Director General.

Smt. Padmaja is currently serving as High Commissioner to High Commission of India, Suva (Fiji) since 17th April, 2019.
---
श्रीमती पद्मजा, फीजी में भारत की उच्चायुक्त - संक्षिप्त परिचय
इलाहबाद विश्वविद्यालय से इतिहास विषय में एम. ए. करने के पश्चात श्रीमती पद्मजा ने 1986 में भारत के विदेश मंत्रालय में अपने कैरियर की शुरूआत की। आपकी पहली पोस्टिंग बंगलादेश में थी, जहाँ आप काऊंसलर और वीसा मामलों की अधिकारी थीं। उसके पश्चात वे विदेश मंत्रालय, दिल्ली में अफगानिस्तान, ईरान, ऐतिहासिक अनुसंधान, वीज़ा नीति, पासपोर्ट और काऊंसलर संबंधी मामले, प्रवासी भारतीय (एन. आर. आई) और पी. आई. ओ. संबंधी मामलों की अधिकारी रहीं। वर्ष 2010 में भारतीय हाई कमीशन, लंदन में पोस्टिंग पर जाने से पहले उन्होंने इंडियन कौंसिल ऑफ़ वर्ल्ड अफेयर्स (ICWA) में भी काम किया। भारतीय उच्चायोग, लंदन में उन्होंने मीडिया, सूचना और पब्लिक डिप्लोमेसी विषयों का कार्यभार संभाला। वापस मुख्यालय लौटने पर उन्होंने ग्लोबल एस्टेट मैनेजमैंट और काऊंसलर मामलों संबंधी विभागों में महत्वपूर्ण पदों पर दायित्व निर्वाह किया।
वे हिंदी और अंग्रेजी भाषा पर अधिकार रखती हैं और भारतीय विदेश सेवा के वर्ष 2000 के बैच की अधिकारी हैं। उन्हें भारतीय संस्कृति, हिंदी, संस्कृत तथा अन्य भारतीय भाषाओं और साहित्य में गहरी रूचि है । उन्होंने ज्योतिष और साहित्य की कुछ पुस्तकों का अंग्रेजी से हिंदी में अनुवाद भी किया है। प्रकृति से गहरे प्रेम के कारण उन्होंनें बहुत स्थानों की यात्रा भी की है जिसमें विश्व की सबसे कठिन और खतरनाक कैलाश मानसरोवर की यात्रा भी शामिल है।
श्रीमती पद्मजा फ़ीजी आने से पूर्व भारतीय सांस्कृतिक सम्बन्ध परिषद् में उप महानिदेशक के रूप में कार्यरत थीं और वर्तमान में अप्रैल 2019 से वह फ़ीजी में भारत की राजदूत हैं।