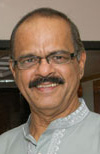 Mr. Viveka Nand
Indian Classical Instrumental: Tabla, Harmonium & Vocal

Viveka Nand has been a regular an active student of the ICC in Suva since its inception in 1972.At present; Mr.Nand is a faculty as Indian Classical Instrumental in ICC Suva. His major interest has been in the area of light classical vocal music and also of instrumental music, Harmonium, Tabla and Sitar (Percussion). He is a proficient and talented teacher in the field of both, Vocal and Instrumental music. Previously, he has worked for 5 years as a part time tutor at the University of the South Pacific from year 2000 and in Fiji College of Advance as a Guest Lecturer in Indian Music. Mr. Nand has been teaching in ICC Suva since October 2008.

Ms. Kavitha Sudarshan
Indian Classical Vocal: Carnatic Music

Ms Sudarshan, teaching in ICC,Suva since February 2009. She was born in Kozhikode, Kerala and has been trained in Carnatic Classical Music. She is a disciple of Shri Nedumangadu Sasidharan Nair who is an accomplished A-Grade artist with the All India radio and Doordarshan. Kavita is also an A-Grade artist in both light and classical music. She has performed extensively with eminent playback singers like Shankar Mahadevan, Hariharan, Chitra. Mrs. Sudarshan has a number of CD recordings to her credit. She is a versatile singer who sings in Malayalam, Tamil, Hindi, Fijian and English.

Ms. Shobna Chanel
Indian Classical Dance: Kathak

Ms Shobna is a Kathak Faculty at the Centre since 1st December 2009. As a student of ICC she learned Kathak and Folk Dance from 1973 to early 90s from various dance teachers from India stationed at Indian Cultural Centre, Suva, like Mr.Satyanarayan Charkha, Mrs. Shakti Roberts and Mr. S.A Tirmizi.

Ms. Sidhorna Rao
Indian Classical Dance: Bharatnatyam

Ms Sidhorna Rao is a Faculty for Bharatnatyam in ICC Suva. She studied Bharatnatyam under the guidance of Padmashree Guru Saroja Vaidyanathan who is the household name in Bharatnatyam in India at Ganesh Natyalaya in New Delhi and graduated as a Bharatnatyam Performer and Teacher through ICCR scholarship. She has vast experience of teaching in the respective field. Since last 10 years, Ms. Rao has taught Bharatnatyam at Fiji Multi Ethnic Cultural Centre. Ms. Rao has been teaching in ICC since February 2011.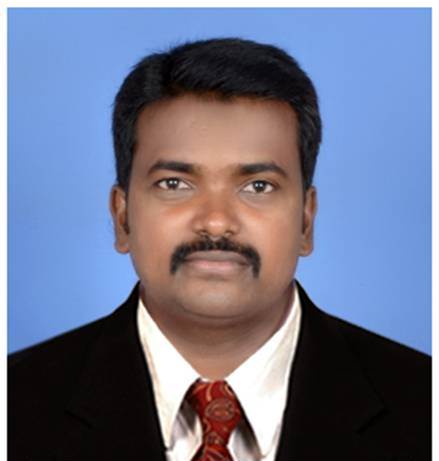 Yoga: Dr V Bharathi Maran
Teacher of Indian Culture (Yoga)

Dr V Bharathi Maran is a graduate of BNYS (Bachelor of Naturopathy and Yogic Sciences) Degree of 5 ½ years duration from "The Tamil Nadu Dr. M.G.R. Medical University, Chennai" having 14 years of experience in Complementary and Alternative Therapies. He was awarded a PhD Degree from India"s prestigious institute "All India Institute of Medical Sciences" (AIIMS), New Delhi for his medical research work on the "Evaluation of Reflexology as an Adjunctive Therapy in Children with Spastic Cerebral Palsy".

He has worked in various hospitals and institutions to explore the benefits of drugless therapy and created the awareness on benefits of Naturopathy and Yoga by conducting various health camps and wellness programs. He was appointed as Camp Coordinator by National Institute of Naturopathy, Pune, Ministry of AYUSH, Govt of India. He worked as Junior Research Fellow in the project entitled "Randomized Clinical Trial (RCT) on the effect of reflexology in the management of patients suffering from diabetic neuropathy: Case studies" funded by Indian Council of Medical Research, Govt of India and also worked as Senior Research Fellow in the project entitled "Determination of efficacy and safety of reflexology therapy for the patients with intractable epilepsy: a multicenter randomized clinical trial" funded by Department of Biotechnology NER Division, Govt of India in the Dept of Biophysics, AIIMS.He has published nine research articles in various International Medical Research Journals and also he is a Reviewer of the Medical Journal "Complementary Therapies in Clinical Practice" of Elsevier Publications.

Dr V Bharathi Maran is a registered Medical Practitioner in Tamil Nadu Board of Indian Medicine, Chennai. He was appointed asAYUSH Medical Officerat Govt Block PrimaryHealth Centre, Dhaliyur, Coimbatore under National Rural Health Mission (NRHM) byCommissionerate of Indian Medicine and Homeopathy, Chennai, Ministry of Health andFamily Welfare, Govt of Tamil Nadu before joining as Teacher of Indian Culture on June 11,2018 at High Commission of India, Swami Vivekananda Cultural Centre, Suva, Fiji Islands.

Preetam Singh Shokar
Teacher of Bhangra

Bhai Preetam Singh Shokar, originally from Ba Fiji, is currently serving as the Head Priest ofSamabula Gurudwara Sahib, under controlling authority of Sikh Gurudwara PrabandhakCommittee Suva Fiji, since 2015. Mr. Shokar is officially in-charge of religious, cultural, social,environmental, educational, and community development initiatives of SGPC Suva Fiji.

His valiant efforts in National and International Diplomacy have successfully placed him as theAssociate Chairperson of Interfaith Search Fiji and the Chief Ambassador of Peace for HeavenlyCulture, World Peace & Restoration of Light, a South Korean Agency under SpecialConsultative Status with United Nations Economic and Social Council since 2017.

With Certification in Gurmat Gyan, Gurmat Sangeet and Theology from Tarn Taran Academy,Punjab India, Mr. Shokar also carries 17 years of experience in Punjabi Bhangra Performanceand Choreography. Additionally for his efforts in advocating Indian Culture, Mr. Shokar is arecipient of Award by Indian Council for International Cooperation for his participation in theFijian Delegation to World Hindi Conference in Mauritius in 2018.

In education, Mr. Shokar has been the President of University of the South Pacific Accountingand Finance Students' Association and currently serves on the Council of University of Fiji. Mr.Shokar is teaching Bhangra at SVCC since October 2019.

Ms Shayal Sarika Sami
Teacher of Hindi
Ms. Shayal Sarika Sami is a faculty for Hindi in ICC Suva. She is originally from Labasa, Fiji. She attainedher Bachelors of Arts (HONS) Degree from Miranda House, University of Delhi, India in 2018. She is apoet, a writer and a professional public speaker. Ms. Sami was one of the ICCR scholarship recipientsand she has been teaching in ICC since September 2019.