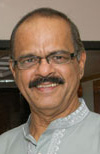 Mr. Viveka Nand
Indian Classical Instrumental: Tabla, Harmonium & Vocal

Viveka Nand has been a regular an active student of the ICC in Suva since its inception in 1972.At present; Mr.Nand is a faculty as Indian Classical Instrumental in ICC Suva. His major interest has been in the area of light classical vocal music and also of instrumental music, Harmonium, Tabla and Sitar (Percussion). He is a proficient and talented teacher in the field of both, Vocal and Instrumental music. Previously, he has worked for 5 years as a part time tutor at the University of the South Pacific from year 2000 and in Fiji College of Advance as a Guest Lecturer in Indian Music. Mr. Nand has been teaching in ICC Suva since October 2008.

Ms. Kavitha Sudarshan
Indian Classical Vocal: Carnatic Music

Ms Sudarshan, teaching in ICC,Suva since February 2009. She was born in Kozhikode, Kerala and has been trained in Carnatic Classical Music. She is a disciple of Shri Nedumangadu Sasidharan Nair who is an accomplished A-Grade artist with the All India radio and Doordarshan. Kavita is also an A-Grade artist in both light and classical music. She has performed extensively with eminent playback singers like Shankar Mahadevan, Hariharan, Chitra. Mrs. Sudarshan has a number of CD recordings to her credit. She is a versatile singer who sings in Malayalam, Tamil, Hindi, Fijian and English.

Ms. Shobna Chanel
Indian Classical Dance: Kathak

Ms Shobna is a Kathak Faculty at the Centre since 1st December 2009. As a student of ICC she learned Kathak and Folk Dance from 1973 to early 90s from various dance teachers from India stationed at Indian Cultural Centre, Suva, like Mr.Satyanarayan Charkha, Mrs. Shakti Roberts and Mr. S.A Tirmizi.



Ms. Sidhorna Rao
Indian Classical Dance: Bharatnatyam

Ms Sidhorna Rao is a Faculty for Bharatnatyam in ICC Suva. She studied Bharatnatyam under the guidance of Padmashree Guru Saroja Vaidyanathan who is the household name in Bharatnatyam in India at Ganesh Natyalaya in New Delhi and graduated as a Bharatnatyam Performer and Teacher through ICCR scholarship. She has vast experience of teaching in the respective field. Since last 10 years, Ms. Rao has taught Bharatnatyam at Fiji Multi Ethnic Cultural Centre. Ms. Rao has been teaching in ICC since February 2011.

Yoga: Ms. Sangeeta Devi Kumar
Teacher of Indian Culture (Yoga)

" Ms. Sangeeta Devi Kumar Completed Yoga Instructors' Course (YIC) in 2016 through ITEC at Swami Vivekananda Yoga Anusandhana Samasthana, Bengaluru, India. She has been involved with the programs related to International Day of Yoga in Fiji, Nauru and Tonga organized by Swami Vivekananda Cultural Center, High Commission of India, Suva. She started teaching Yoga as Yoga Instructor at Swami Vivekananda Cultural Center, Suva on 1st February 2021 ".

Preetam Singh Shokar
Teacher of Bhangra
" Bhai Preetam Singh Shokar, originally from Ba Fiji with Certification in Gurmat Gyan, Gurmat Sangeet and Theology from Tarn Taran Academy, Punjab India, also carries 17 years of experience in Punjabi Bhangra Performance and Choreography. Additionally for his efforts in advocating Indian Culture, Mr. Shokar is a recipient of Award by Indian Council for International Cooperation for his participation in the Fijian Delegation to World Hindi Conference in Mauritius in 2018.
In education, Mr. Shokar has been the President of University of the South Pacific Accounting and Finance Students' Association and currently serves on the Council of University of Fiji. Mr. Shokar is teaching Bhangra at Swami Vivekananda Cultural Center, High Commission of India, Suva since October 2019 ".
Name and Designation as follows:-
Mr. Preetam Singh Shokar
Panjabi Folk Dance

Ms Shayal Sarika Sami
Teacher of Hindi

Ms. Shayal Sarika Sami is a faculty for Hindi in ICC Suva. She is originally from Labasa, Fiji. She attainedher Bachelors of Arts (HONS) Degree from Miranda House, University of Delhi, India in 2018. She is apoet, a writer and a professional public speaker. Ms. Sami was one of the ICCR scholarship recipientsand she has been teaching in ICC since September 2019.